WolfTrack Classic Sled Dog Race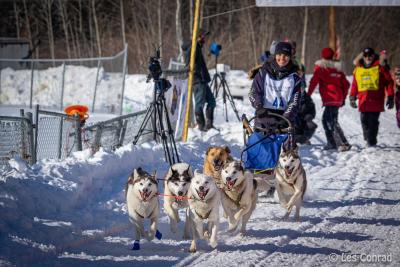 Ely, Minnesota is the gateway to the Boundary Waters Canoe Area Wilderness—over one million acres of pristine forest with lakes, rivers, and abundant wildlife. The BWCAW is part of the Superior National Forest, over three million acres of land that is wild and scenic and offers visitors a wide variety of outdoor experiences from the serene to the adventurous. What could be more appropriate for this setting than a sled dog race?
The WolfTrack Classic Sled Dog Race takes place in February each year in these beautiful, natural, and wild surroundings. The WolfTrack Classic consists of two mid-distance races: a 6-dog and 8-dog competition. It all starts when the first 8-dog race team heads down the trail on its way through 50 miles of wild and beautiful boreal forest on the Taconite trail that winds back to finish in Ely. The 6-dog teams also leave from the Ely start for a 30-mile race and also travel on the Taconite Trail winding around near Purvis Lake and back to Ely. There are over 40 teams with hundreds of canine athletes ready to go the distance in these two races. It's always an exciting finish as the teams break through the last of the forest tree line and give their last great spurt of energy as they race towards the finish line!
The WolfTrack Classic is a family-friendly event that offers a spirit of mentoring and inclusiveness to all those who participate. Follow their website and Facebook page for breaking news and updates!