Best Fishing Spots
Fishing Ely, Minnesota: Secrets from anglers in the know
For as long as you are willing to listen, skilled fish-stalkers will tell you about the bait, the lure, the angle of the sun, the depth of the water and the weight of the line. They'll distinguish between a nibble, a swipe and a hammering chomp.
But when you ask where this drama took place, they might say something like, "Oh, somewhere up on the north end of Fenske. Buddy told me the northern are crazy up there. But keep it under your hat." And you nod as you consider which lures to take with you this weekend.
Fortunately, enthusiasts have made their preferences clear, revealing to the Ely, Minnesota, visitor some of their favorite fishing spots. Each of these lakes is distinctive, with some combination of shape, size, islands, plant-life, shore-lunch spots and hungry fish that makes it someone's favorite. Lakes are a little like houses — some just feel like home, and Ely's Open House lasts year-round.
The Ely area is blessed with more than 5,000 lakes, streams and rivers, and this is just a sampling of popular spots from among the hundreds that visitors fish.
Basswood Lake
Located within the Boundary Waters Canoe Area Wilderness (BWCAW) bordering Canada, Basswood Lake is beloved by those who want some serious serenity with their northern pike and walleye hunt. Anglers travel just 7 miles north and 5 miles east of Ely and arrange a tow or portage into its 22,000-plus acres, where more than 100 campsites dot the shoreline. Anglers passionate about Basswood Lake say it is the best freshwater fishing to be found thanks to a population dominated by walleye, northern pike, smallmouth bass and plenty of cisco to keep them fat. Basswood Lake fans stick to the protected areas of the lake; they know the bays and the channels between islands stay warmer and attract baitfish. For the record, the largest Minnesota northern pike reported by the Minnesota Department of Natural Resources (DNR) was caught in Basswood; it weighed 45 pounds, 12 ounces.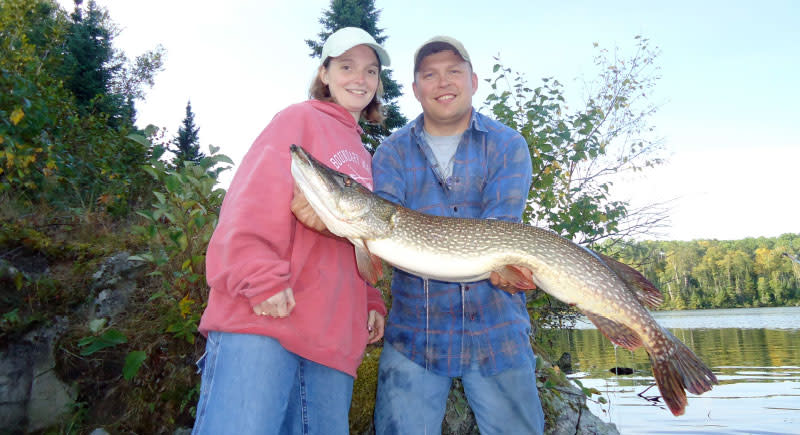 White Iron Chain of Lakes
A few miles east of Ely, White Iron Lake, Garden Lake, Farm Lake and South Farm Lake make up the White Iron Chain of Lakes, where hydroelectric dams control flow and water levels on close to 11,000 acres of water. The Chain of Lakes borders the Boundary Waters Canoe Area Wilderness and mimics the BWCAW's beauty and abundant wildlife. White Iron maintains naturally reproducing populations of game fish, including smallmouth bass, walleye and northern (and yes, the occasional trophy-size fish). The Garden-Farm-South Farm reservoir is managed for both walleye and northern. Garden Lake is stocked with walleye fingerlings every two years, so it offers up those two favorites along with smallmouth bass and panfish in typical northeastern Minnesota varieties.
Birch Lake
Birch Lake is south of Ely, north of Babbitt, and more than 7,000 acres of fun. Beautiful and accessible, Birch Lake has multiple public access points. Seventy-five percent of its shoreline remains undeveloped and publicly owned. This popular lake has a craggy, irregular shoreline that creates enough irresistible bays, deep pools, weedy patches and shallows to keep fisherfolk busy catching walleye, northern pike, crappie and bluegill. Serious anglers and happy houseboaters share this giant beauty with canoes and kayaks, while swimmers and campers enjoy the surrounding parks and campgrounds.
Fenske Lake
Fenske Lake is located along the Echo Trail just 7 miles north of Ely. This little gem — less than 120 acres — has been described by fans as the closest thing to a Boundary Waters lake you can find outside the BWCAW. Northern, walleye and smallmouth bass can be found in this lake with a bottom the DNR calls "abundant muck." Smallmouth like it and thrive in the underwater forests of aquatic plants on the eastern and western ends. On Fenske Lake, beaver dams limit fish movement, the water is soft and clear, the shoreline is irregular and the fishing is predictably good.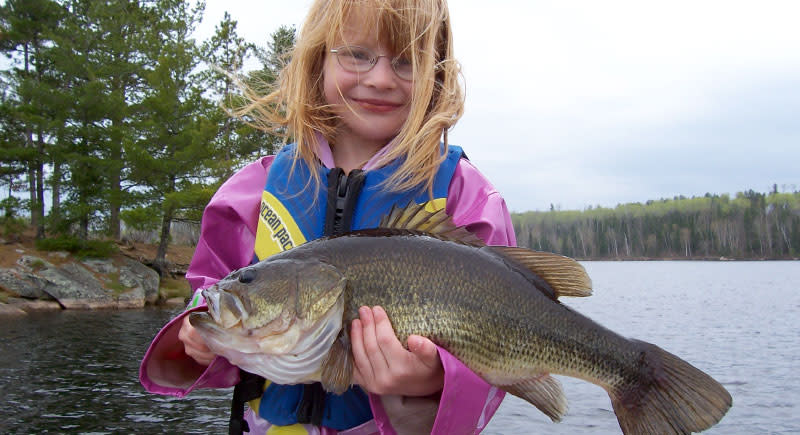 Little Long Lake
Four miles northeast of Ely, the 293-acre Little Long Lake presents spectacular fishing for walleye anglers. The lake is thick with them, and they're big — averaging over 19 inches. Little Long Lake also has smelt that feed those walleye well; veteran anglers take that into consideration and use lures that imitate the forage to hook a lunker. Smallmouth bass, northern pike and a variety of panfish thrive there too, and anglers are successful often enough to make this lake a favorite. A fat walleye from Little Long will earn real bragging rights.
Bear Island Lake
Bear Island Lake, southwest of Ely, is about 4 miles long and 2 miles wide. It has very clear water and a healthy walleye population. Veteran anglers use natural-colored lures to closely imitate the forage. Bear Island fans say this 2,360-acre lake is also good for smallmouth bass because it has so much plant life. One large island dominates the center of the lake, and 20 or so others are spotted around, so the fishing comes with a variety of flying and skittering animal life to watch — and its shallow bays and sandy beaches are great for a cooling dip on a hot day.
Big Lake
Big Lake, covering more than 1,900 acres, is snuggled against the Echo Trail about 12 miles northwest of Ely and is surrounded by the Boundary Waters Canoe Area Wilderness. This scenic area is wooded with pine, birch, spruce, balsam and aspen that harbor abundant wildlife. Big Lake is stocked with walleye fry every three years, so Minnesota's most sought-after fish abounds — along with smallmouth bass, northern pike and crappie. The area's beautiful, rocky shoreline has public campsites and a concrete boat ramp off the Echo Trail for public access. The lake has 14 islands, numerous inlets and bays, and offers exceptional fishing by boat or canoe.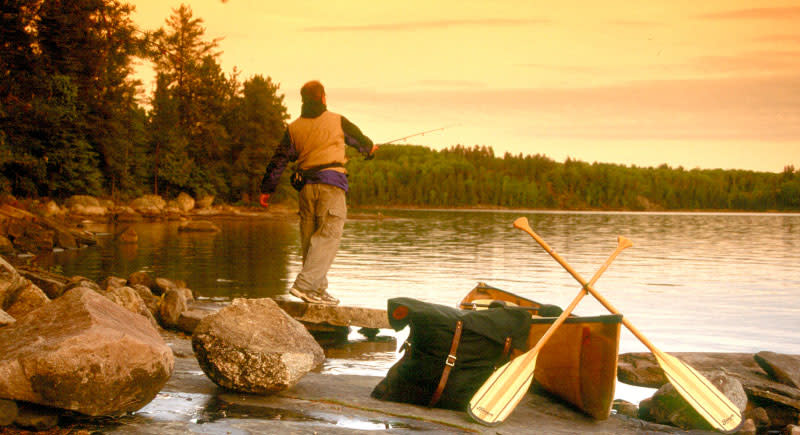 Moose Lake
The 1,300-acre Moose Lake is about 17 miles northeast of Ely. With its northeastern half located within the Boundary Waters Canoe Area Wilderness, Moose Lake has long been considered to be the end of the road and beginning of the wilderness. Its clear water is home to northern pike and walleye that grow faster than average, abundant smallmouth bass, largemouth bass and a variety of panfish. Expect a little company; it's a popular BWCAW entry point with a lot of outfitters and guides serving canoe campers and anglers on their way to Basswood, New Found, Sucker, Ensign and numerous other lakes.
Shagawa Lake
Shagawa Lake is so close to Ely you can stand almost anywhere in town and throw a rock into it. OK, that's a stretch — but it is close enough to wet a quick line when the urge to fish is suddenly overwhelming. This craggy-edged lake of more than 2,000 acres has many small islands and weed beds, which is why it is touted as prime fishing habitat. Walleye as long as 26 inches and northern as long as 43 inches have been caught in its waters. Shagawa Lake is stocked with a couple of million walleye fry every third year, and it also has a lot of perch — which sustains this great walleye fishery. Anglers can expect to catch a variety of fish, including smallmouth bass, northern, crappie and bluegill.
Northeast Minnesota holds the state records for biggest walleye, northern and lake trout — they grow 'em big up there. While this does not guarantee a trophy, the chances increase with the multitude of opportunities in the Ely area. In-the-know anglers check the Ely Minnesota Fishing Report for the latest fishing activity and tips. For detailed lake information, they check with local experts; owners of lodging facilities, outfitters, fishing guides and bait shops all have lots of tips to share. They explore, they watch and listen; they cast and learn. They discover where it's possible to catch a crappie the size of cast-iron skillet — or a copper-colored walleye so beautiful they question whether to keep it.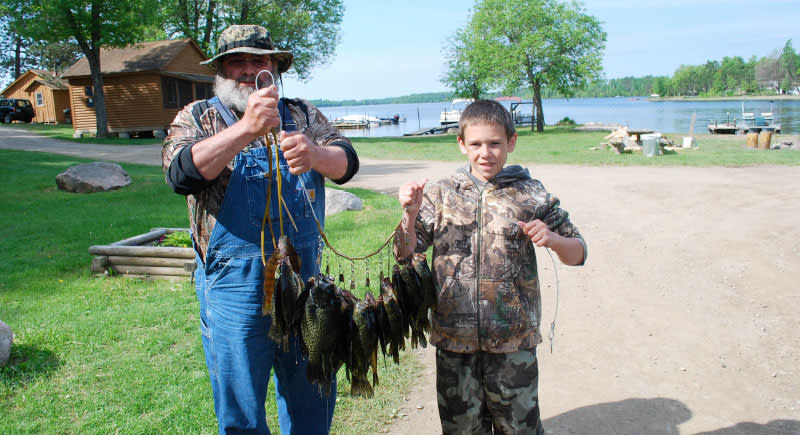 And once they find the lake that feels like home, it becomes their own secret place that perhaps a few others know about . . . but they don't care. With more than 5,000 lakes, streams and rivers, there is no shortage of fishing opportunities in the Ely area.
— By Kristine Chapin for Ely Minnesota Tourism Bureau