Fall Activities in Ely
Fall in{to} Ely, MN
As summer winds down here in Ely, the northern-Minnesota fall season brings calming, picturesque and photo-worthy shades of red, gold and orange to the treetops dotting beautiful, blue September skies. A fall vacation in Ely, Minnesota, ensures a quiet, seasonal escape for couples and families alike… and memories that'll last a lifetime.
Soak in all of Ely's favorite fall activities. By day, the calm lakes are ideal for kayaking, canoeing, boating or paddle boarding in Ely. And, the northern Minnesota fishing doesn't quit. Walleye, bass, crappie, northern, pan fish and lake trout all thrive in our peaceful, northern Minnesota lakes. By night, Ely guests often enjoy s'mores around the campfire; the smell of wood smoke as it heats your Ely cabin on a cool fall night or even sauna nights (followed by a cool jump in the lake) under the falling stars…
Fall in Ely also brings a celebration of the season, with the community's Harvest Moon Festival. This three-day festival featuring arts & crafts, tantalizing food and a whole lot of autumn fun takes place the first weekend after Labor Day in Ely's Whiteside Park.
Whether you're planning to visit Ely as a family, couple or a large group, Ely lodging properties and rental cabins have the availability to host your fall getaway. And, whatever your reason for vacationing in Ely this fall season, make your reservations early to enjoy the "Ely, last great pure experience."™
Fall Fishing
No matter the season you choose to fish in Ely, we're home to more than 5,000 lakes, rivers and streams in northeastern Minnesota. And, the fall fishing season is no exception to the number fishing hotspots or the variety of fish you could catch. Walleye, bass, crappie, northern, pan fish and lake trout all offer a northern Minnesota fall fishing phenomenon like no other.
Fall Hiking
Explore the Ely area via foot. Numerous Minnesota hiking trails give Ely adventurers a tried-and-true wilderness experience. Tucked in the boreal forest of northern Minnesota, the Bass Lake Trail, Angleworm Trail, Trezona Trail, Hidden Valley Trail, Secret/Blackstone Trail and the Snowbank Trail are all popular Ely hiking options that provide hikers of all ages with short jaunt routes or daytrip hiking experiences.
Fall Scenic Drives

Up for a little fall road trip? Venture to Ely this fall! It's the perfect season to get out and explore Ely and its surroundings. Numerous northern Minnesota scenic drives are mapped out for day-trippers interested in an Ely road trip via vehicle or even motorcycle. The Echo Trail, Highway 1, Fernberg Road, among other routes, all offer fall visitors scenic wilderness routes to and from Ely and allow guests to explore northern Minnesota's fall color, wildlife and more.

From just west of Ely on Hwy 169, travel north and then west on the Echo Trail (County Road 116) for 72 miles all the way to Orr. The Echo Trail is a roller coaster ride of paved and gravel road cutting through some of the most scenic country anywhere. Lakes along the way include Shagawa, Burntside, Big, Jeanette and Echo.

Turn south onto Highway 1 off of Highway 169 in Ely and you can enjoy 65 miles of meandering beauty all the way to the north shore of Lake Superior. There are many side roads that offer spectacular scenery. Highway 1 terminates at the Tettegouche State Park near Sliver Bay. Take your time on the winding road and watch for wildlife. It's not uncommon to spot deer, timber wolves and even moose along the way.

Exit Ely from the east on Highway 169 which turns into Fernberg Road (Country Road 18). You can follow this scenic drive for 15.5 miles to the northern arm of Lake One. Scenic lakes along the way include Fall, Garden, Tofte and Jasper.
Fall Photography
Fall vacation adventures in Ely allow guests to share Ely's "last great pure experience" via photograph! Whether you choose to capture your northern Minnesota fall vacation experience with a point-and-shoot camera, digital SLR or your smartphone, one thing is certain, the fall scenery here in Ely is worthy of sharing with family and friends. Fall color, wildlife and wilderness instantaneously "photobomb" every photograph captured (in a breathtaking way) here in Ely, all season long.
Hunting
Whether you are looking forward to the quiet of a duck blind, a rambling road of fall color dotted with grouse, the still vibrant forest with roaming deer or bear—Ely is your perfect destination.
More about hunting in Ely, Minnesota »
Fall Canoeing/Camping
There's no better season to experience northern Minnesota's crisp skies, clean air and calm waters than fall, right here in Ely!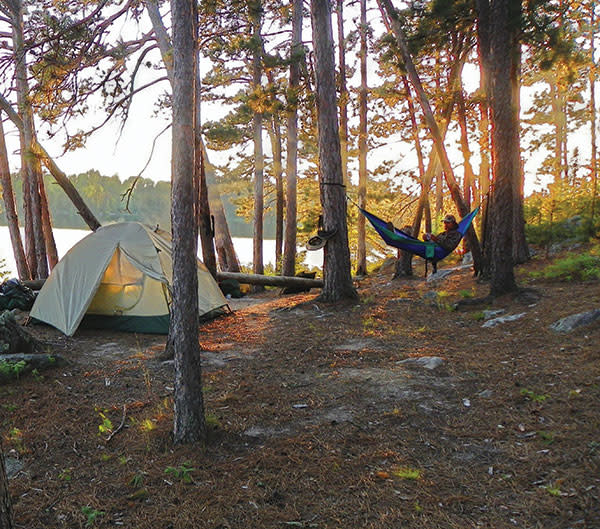 Amongst northern Minnesota's vast wilderness lies Ely canoe country. Our plentiful, easily accessible calm lakes, rivers and waterways allow canoe enthusiasts to explore and experience the majesty of fall in all its colorful glory via canoe. Paddle to (or through) the Boundary Waters Canoe Area Wilderness (BWCAW) and camp under the stars and the north country's striking "Northern Lights" that often dance across the Ely area wilderness on crisp, cool fall nights. (User fees are required for overnight guests in the BWCAW through September 30.) If remote wilderness camping (in the BWCAW) isn't your style, the Ely area also offers drive-up campsites at private, state and federal campgrounds. Campers may use tents, RVs, campers, etc. The amenities offered at each Ely park vary. Many include restrooms, electric and sewer hookups, and more!