Kinds Of Fish
Find the Best Fishing in Minnesota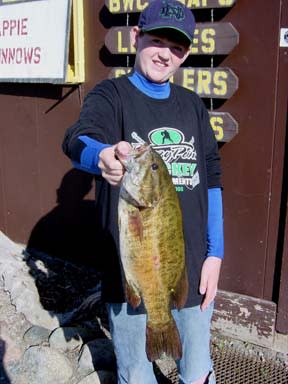 Minnesota Fishing Regulations
It's explosive. Spectacular. red-eyed, smallmouth bass going off the water like skyrockets. Crappie pin wheeling in bursts of silver. Northern pike bursting like green Roman candles. Golden flashes of walleye. Torpedoing, gleaming lake trout. All usher in Ely's spectacular fishing.
The Ely area is blessed with access to more than 5,000 lakes, streams and rivers in northeastern Minnesota.
Enjoy evening fishing when the swarms of stars appear like specks of silver on a blue-black blanket stretched almost within reach over the tree tops. At times, the incredible flashes of northern lights, will flare with streaks of white, pink or green, arching in ribbons across the sky or dancing like curtains of colors.
Morning fishing offers a completely different spectacle. Great blue herons stalk the shallows in the morning mists while loons, decked out in their formal black and white attire, send mournful cries echoing from shore to shore.
Here are our most common and most commonly sought fish species in area waters.
For as long as you are willing to listen, skilled fish-stalkers will tell you about the bait, the lure, the angle of the sun, the depth of the water and the weight of the line. They'll distinguish between a nibble, a swipe and a... Read More
Walleye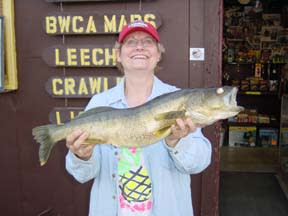 The most sought after prize in Ely area lakes is the golden sided, glass-eyed walleye. Nothing can beat a skillet of golden brown fillets sizzling over a campfire.
Many veteran anglers prefer to pursue the walleye at night. There is no question that the big ones – trophy sized 8 to 10 pounders, will swim into the shallows at night to feed. Sandbars, in the currents between lakes or where streams enter quieter waters are all likely spots to hook a lunker with rapalas, rebels and other minnow-like crank baits.
This certainly doesn't mean that you can't catch walleyes during the day. Some of the best fishing of the year can be enjoyed in the middle of the day on the typical resort lake, with the bait ranging from minnows and leeches to night crawlers.
The really adventurous fisherman can go into some of our remote waters. We have ten wilderness-type lakes for every one with cabins on the shore. Resorters, outfitters or bait shops will be able to help you with walleye fishing tips for the best bait, lures and locations. Our state record walleye is 17.5 pounds.
Smallmouth and Largemouth Bass
Smallmouth Bass: Smallmouth bass, those snub-nosed, flaming eyed warriors of the boulder piles, are cruising the breakline in marauding schools, daring the fisherman to invade their domain. The smallmouth is ounce for ounce the fightingest fish that swims, and these are world-class waters to catch them in! The clear, granite-rimmed waters of the Canadian Shield offer optimum conditions for smallmouth to flourish.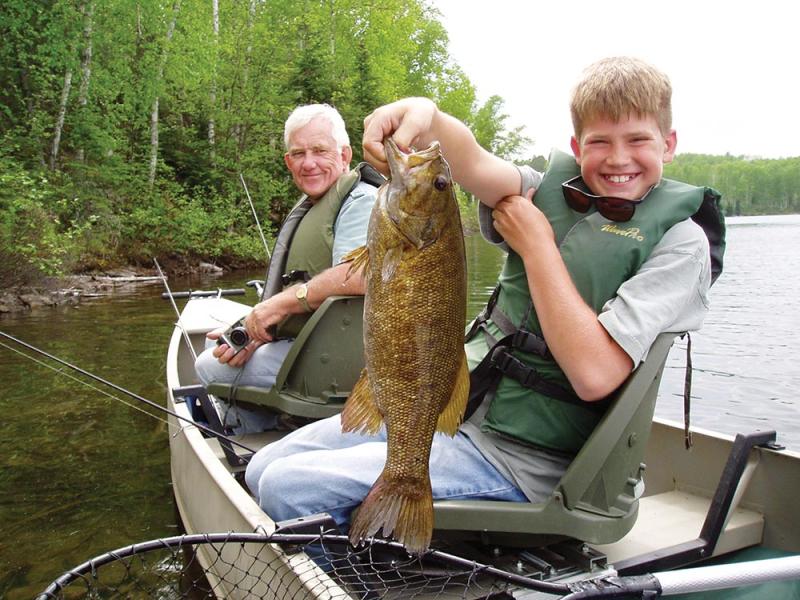 In recent years the number of bass in the area has gotten so high, the season has been lengthened. According to reports those numbers show no signs of diminishing. This however, does not mean that anyone that shows up with a rod and reel is going to fill out on trophy-sized bass. They're intelligent fish – ask around and you're sure to get some tips on how to hook them.
Once located, smallmouth will hit Rapalas or similar crank baits, Mepps and other spinners. They also love live bait rigs tipped with leeches, minnows or crawlers. So if you want action like you've dreamed about, head to Ely. Our state record: 8 pounds.
Largemouth Bass: Almost identical in appearance to the smallmouth, largemouth bass inhabit weedy areas of inland lakes. Like the smallmouth, they are known for their scrappy qualities on the end of a line. Most bass anglers prefer artificial lures but largemouths can also be take with live bait.
In the heat of summer, try catching a couple dozen small frogs and toss them towards some lily pads. This combination can be murder on all species of fish, but bass especially, can't seem to pass it up. Our state record: 9 pounds 4 ounces.
Northern Pike
Northern pike fishing is an explosive, foam-flying, surface busting experience. Generally known to inhabit weedy areas of lakes in water depths of 15 feet or less, northerns are found in all our area waters.
Northerns can be taken on large trolled lures – spinners, plugs, spoons and on sucker minnows. As they are primarily daytime feeders, it is common on some lakes to land,photograph, and release 25 or more of these fighters in a single day. Many anglers will keep only the occasional trophy for the taxidermist, and a couple of 30-inchers for supper.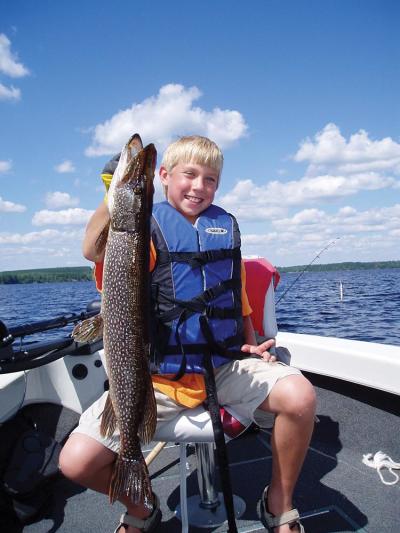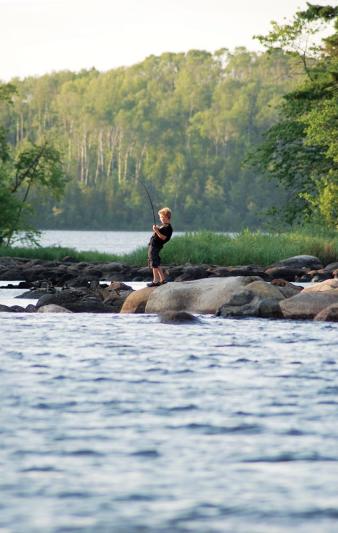 Lake Trout and Rainbow Trout
Lake Trout, powerful rod and reel antagonists, are native to the Ely area and offer and incredible array of action "Lakers" are found in many of the Ely area lakes, as they prefer water temps between 45-55 degrees. Our area is blessed with some excellent lake trout waters where the fish can be taken on deep-fished white jigs or frozen ciscos (available in any area bait shop.)
Lake trout are often taken through the ice in January and February by jigging with artificial lures or still fishing with live or dead minnows. They move into the shallows after the spring ice breakup and are commonly caught by casting with artificial lures or by still fishing with live or dead minnows or cut bait. Lake trout inhabit deeper water during mid-summer and therefore are more difficult to catch. State record: 43 pounds 8 ounces.
Rainbow Trout: The fighting qualities of the rainbow make it the favorite of most Minnesota trout anglers. they are found in many small reclaimed lakes in the Ely area. Local resorts and outfitters have information on what lakes hold these and other species of trout, how to get to many of these lakes and the access available.
In smaller lakes, they are caught by still fishing with night crawlers or salmon eggs, or by casting or trolling with various types of artificial lures including spinners, small spoons and flies. State record: 17 pounds 6 ounces.
Panfish
Black Crappie: Schools of slab sized black crappies inhabit many area lakes and many anglers have begun to cash in on Ely's abundant but less publicized panfish. Fish up to two pounds are taken in many of the area lakes, usually on small minnows, jig-and-minnow combinations or tiny jigs.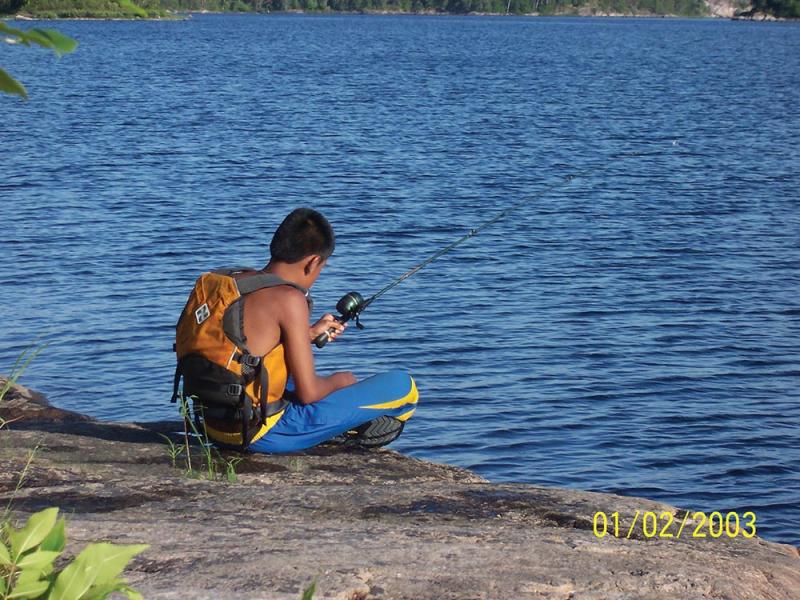 Crappies aren't just a summer fish, they're a favorite of many ice fishermen too, sometimes providing unbelievable winter action. State record: 5 pounds.
Perch: A favorite of many anglers, perch can be found in a variety of lakes. They are a schooling fish whose food requirements are very general. They prefer lakes with rocky or sandy bottoms and abundant vegetation and will bite on small jigs or a hook baited with a worm or small minnows. State record: 3 pounds 4 ounces.
Bluegill: Close your eyes and imagine a bluegill that you can't get your hand around. Many area lakes offer the opportunity to turn imagination into reality. They are aggressive feeders and will bite on both artificial and live bait. Ultralight fishing rigs or fly rods with small jigs are best for fishing panfish. State record: 2 pounds 13 ounces.
The first step in any fishing trip is finding the right Minnesota Fishing Resort. Ely Minnesota has a wide variety of fishing resorts and other lodging depending on your desired comfort level. Read More