Inspiration & Planning
Get inspired for your wedding by browsing through our Pinterest boards and get some great ideas to make your wedding unique and special!
Stephanie and Forrest's BWCA Honeymoon
I experienced the BWCA when I was younger and really wanted my fiancé to see it. He loves the outdoors and is an avid kayaker, hiker, camper & mountaineer. We live in Alaska now, but our wedding took place in central Minnesota. So this was a perfect way to celebrate our honeymoon and canoe the Boundary Waters.
We got married at 3pm on a Saturday in central Minnesota, partied afterwards, and then skipped Sunday's farewell brunch to drive to Ely – arriving a mere 24 hours after we tied the knot.
The friendly and knowledgeable team at Ely Outfitting Company had everything ready for us. Using their Complete Quality Outfitting Package was so sweet! Every time we go camping at home it is a day or two process to get everything together and packed. It is well worth it to have someone else do that for you – makes it even more relaxed and vacation-y. And it was crazy-convenient to let someone else take care of the canoe trip honeymoon details while we focused on the wedding details.
Our BWCA adventure was a great start to our extended honeymoon travels. I love the Boundary Waters because the wilderness experience it offers is on par with some of the wilderness in Alaska, but the access is much easier. And, the BWCA allowed us to spend time as just the two of us enjoying something we both love while still being active – perfect!  I recommend the BWCA to anyone I know that loves the outdoors – and for outdoorsy newlyweds like ourselves, a BWCA honeymoon could be an awesome fit.
WHEN we come back, we will most definitely be using Ely Outfitting Company again.
– Stephanie (and Forrest), Sept. 2014 BWCA Honeymooners
Wendy and Ryan's Wedding Story
I tied the knot in Ely 13 years ago!  Although I was originally from the area, we were living in Seattle and had family spread all over the U.S.  We decided there was no better place to get married than in Ely!  My husband's extended family spent the entire week leading up to the wedding at a quaint lodge near Ely.  They still talk about the amazing time they all had with fishing, swimming, bonfires, and scavenger hunts.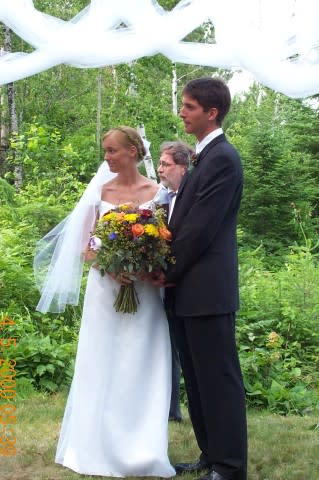 We enjoyed our rehearsal dinner at a local restaurant, with the entire party fitting into the upper loft.  It was cozy and private – the perfect setting!  We got married on July 5, so we were also able to enjoy the amazing 4th of July fireworks after our dinner.  We had our ceremony at my parent's cabin on Birch Lake.  The reception followed at another one of Ely's amazing venues.
I did all of the planning myself, although looking back I wish I had a wedding planner.  I was sure I thought of every single detail, but still things happen!  I had to get up at 4:00 AM on the morning of the wedding to decorate the reception room.  Although it was a blissful time to spend by myself reflecting on what the day would hold, I may have been happier just staying in bed!  That morning it poured down rain.  We didn't have a backup plan for our outdoor wedding, so my parents scrambled to find a tent – a red and white striped circus tent!  What a way to beautify things!  The rain cleared just in time for the wedding so we didn't need a tent, but my dress sleeve ripped off during the congratulatory hugs.  Where was my event planner with her "emergency wedding kit"?
Wedding planning takes a lot of time and things can go wrong at the last minute.  How perfect would it have been to have someone there, who understood the design that I wanted within all aspects of our wedding, and to just "take care of it all".
We have since moved to Ely and opened Stone Soup Events.  Did you know that you don't need to hire a planner to take over your entire wedding?  You can still do everything you want to have a part in and just pass the not-so-enjoyable portions off to someone else to handle.  Did you know you can have a planner just for the day of the event to make sure everything does run smoothly and effortlessly for you?  It could be your best way to a less stressful and more romantic wedding experience!
Wendy – Stone Soup Events
elystonesoup@gmail.com
stonesoup.events