Ice Fishing in Ely, MN
Enjoy the best ice fishing in Minnesota!
While the lakes may be covered with ice and snow, plenty of fish are hungry and waiting to grab hold of one of your fishing lures. This is the best time of the year to go after trout, as they are now at depths that can easily be reached with "standard" equipment. The walleye, northern and crappie fishing can be equally as exciting and productive.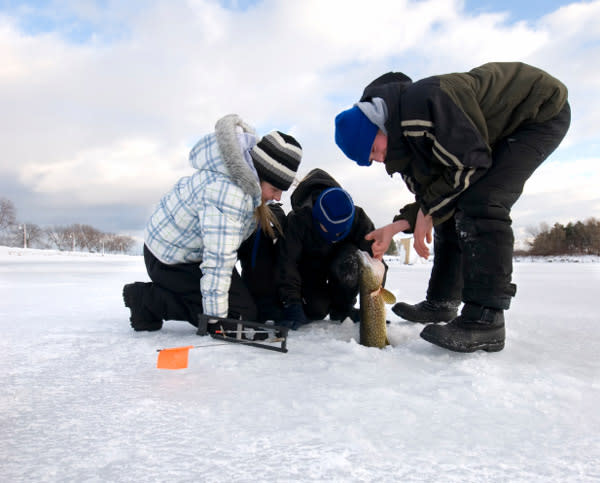 Many of the lakes that usually are too difficult to get into in the summer are now easily reached by snowmobile, snowshoes, cross-country skis or even a sled dog team. You can break your own trail or travel on any number of well-groomed or packed routes. Your fishing trip can be as comfortable or as rugged as you like. Many people combine winter camping with an extended trip out onto their favorite Ely area lake. Others prefer day trips in the comfort of a heated fish house, and at the end of the day, they relax in the comfort of their room or cabin.
Explore More Winter Activities
For a breath-taking winter dogsledding adventure, nothing compares to driving a dog team or just...
You're invited! Here in Ely, our cross country ski season is longer than anywhere else in...
Snowshoes are highly maneuverable, allowing one to go places where cross-country skiers and...