Snowshoe in Ely, MN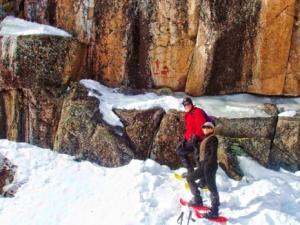 It's true. "If you can walk, you can snowshoe." Most people do well without any formal training, and it doesn't require a lot of special techniques.  You can start today and have fun immediately!
Snowshoes are highly maneuverable, allowing one to go places where cross-country skiers and snowmobilers cannot go. There's no comparing hiking in spring, summer and fall to hiking in the winter snow on snowshoes amidst the quiet serenity of the snow-covered landscape.
Snowshoeing can accommodate a wide variety of activities–a casual hike in the woods, trekking into your favorite fishing spot in the BWCAW, or an overnight winter camping trip.  It's also a relatively inexpensive way to get the whole family outdoors together.
Snowshoe rental is available in the Ely Area.  The Ely Chamber of Commerce Visitor Center can offer several ideas for your snowshoeing adventure.
These popular hiking trails are also great areas to snowshoe:
Secret/Blackstone Trail:
Features: Scenic Overlooks. Various types of terrain. 1 campsite w/ fire grate, tent area & latrine. Approximately 8 miles of trail.
Location: 20 miles northeast of Ely off the Moose Lake Road (CTY Rd 183)
Description: The moderate-terrain trail has a few steep hills and includes a loop around Blackstone Lake. The high vistas provide scenic views to low, moist areas. The trail also winds across small waterfalls. Trees and vegetation provide habitat for various species of wildlife. The trail destination is a rock cliff overlooking Ennis Lake which is frequently used for rock rappelling and climbing. A back country campsite is located on Blackstone Lake.
Bass Lake Trail:
Features: 5.6 miles around Bass Lake. Backpacking campsites. Historically and ecologically unique.
Location: On the Echo Trail – six miles north of Ely.
Description: Bass and Low Lakes are located in a basin gouged out of pre-Cambrian rock. Prior to 1925, the two lakes were separated by a ridge of glacial gravel which acted as a natural dam. Logging operation led to the construction of a sluiceway to move logs through the gravel ridge – a drop of 60 feet. Seepage soon weakened the sluiceway as water moved through the gravel adjacent to the structure. The sluiceway and glacial ridge washed out in the spring of 1925 leaving a gorge over 250 feet wide. Bass Lake was lowered 55 feet in 10 hours, reduced to 1/2 its original size and two small lakes, Dry and Little Dry, became isolated in the old lake bed. Approximate 250 acres of land was then exposed and available to the establishment of pioneer plant species.
Angleworm Trail:
Features: 14 mile trail, with 11 miles forming a loop around Angleworm, Home and Whiskey Jack lakes. 9 designated campsites.
Location: 14 miles northwest of Ely on the Echo Trail.
Description: Rugged trail through stands of red and white pine with many high ridges with scenic overlooks. Moose love to frequent the north end of the trail in the Home Lake area.
Hegman Lake Pictographs:
If you're looking for an interesting winter day hike, why not snowhoe into the Hegman Lake Pictographs?  The Hegman Lake trailhead is located approximately 15 miles north of Ely off the Echo Trail (County #116), and is also entry point #77 for the BWCAW.  The parking lot is plowed in the winter, so you can park off the road. Make sure to fill out a Day Use Permit located in the brown box at the trailhead.  This permit is free of charge.  The distance from the parking lot to the pictographs is about 1.8 miles.  You will follow the portage trail a short way down to the lake, with most of the hike on South and North Hegman Lake.  You will most likely see the trail of cross country skiers as well as snowshoers.   The pictographs are on a granite cliff face in a narrows area between North Hegman and Trease Lakes.  Stop and have a lunch and enjoy the beautiful scenery.  Don't' forget your camera.