Blueberry/Art Festival
July 29-31 2022
Blueberry/Art Festival Emergency Notification: To register text Blueberry22 to 888777.  Those who register will receive emergency notices regarding weather and other important notifications.  Service is provided through the Ely Police Department.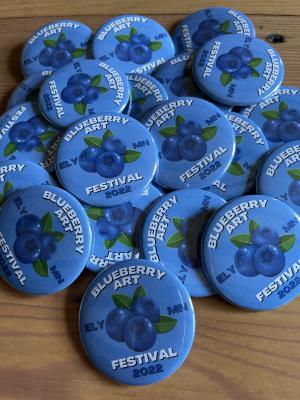 New for 2022 - Limited edition festival buttons.  Blueberry Art Festival buttons are $5.00 each.  Buttons are available at the Ely Chamber of Commerce office (1600 E. Sheridan St., Ely) or at the Ely Chamber of Commerce booth (#112) during the festival.  We have a limited number, so don't miss out.
The time is quickly arriving for the 2022 Blueberry/Art Festival.  This year marks the 41st running of the Blueberry/Art Festival.  Each year the event draws 30,000 to 40,000 festival-goers across the three-day event.  With modifications for health and safety, we anticipate that approximately 200 artists, crafters, and makers are participating in the 2022 event, along with some fantastic food vendors.  
We have plenty of returning artists, crafters, and makers, along with some exciting new ones.  Whether you are looking for watercolor or acrylic art, pottery, woodcraft, or something unique or unusual you will find it at this year's festival.  We mentioned food.  Those sumptuous blueberry pies are back, along with delicious burgers, brats, and pork chops on a stick.  Of course, there is seafood and kettle corn, refreshing beverages - did we mention waffles too?
We need to mention our Operation Blueberry event happening in our business community.  Operation Blueberry runs from July 28 to July 31.   
Since there is too much to do in one day, why not enjoy Operation Blueberry and visit our local attractions one day and come back to the festival for the second day of fun, food, and exciting arts and crafts.
Festival Dates/Hours
Friday, July 29 - 10 a.m. - 6 p.m.
Saturday, July 30 - 10 a.m. - 6 p.m.
Sunday, July 31 - 10 a.m. - 4 p.m.
Midco is a proud sponsor of the Blueberry/Art Festival
 
Midco is providing free WiFi in Whiteside Park