Dogsledding in Ely, Minnesota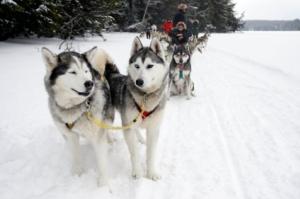 For a breath-taking winter dogsledding adventure, nothing compares to driving a dog team or just riding along in a dog sled. In Ely, there are more sled dog trip providers than anywhere else in the world.
No experience required! Your sled dog guide has spent countless hours training their dogs all year long, so that you can experience an enjoyable trip. Your sled dog guide will teach you everything you need to know for your mushing experience, and you will learn how to harness the sled dog team and maneuver your very own sled.
Enjoy the excitement of the dogs as they lean into their harnesses eager to hit the trail.  With a surge the team is off and heading along the forested trails; the only sound is the sled runners gliding across the packed snow.  The wintry northwoods unfurls its beauty as the team travels deeper into the forest.
Whether you are looking for a half-day or full day excursion, seasoned mushers offer treks to meet your adventure plans.  Dogsledding is a fun winter excursion for all ages and skill levels.  This unique hands-on experience is waiting for you here in Ely, the Sled Dog Capital of the World.
Chilly Dogs Sled Dog Trips
1557 Esterberg Road
Ely, MN 55731
P: 218-365-4726
Email | Website | Directions
Yes, you CAN experience the thrill of dog sledding! Conveniently located just five miles from Ely. Fun for all ages, small and large groups welcome; scenic north woods trails. We offer a variety of rides and trips for first timers, families, or for anyone looking for a memorable winter adventure. Come, meet our happy, friendly Alaskan huskies!
Hauling Dogs, LLC
Ely, MN 55731
P: 218-208-4705
Hauling Dogs provides sled dog freighting services to take gear, or campers and their gear, into the Boundary Waters and surrounding Superior National Forest.  Whether you want to ski, ice fish, or just camp, if it fits into our sleds we will haul it for you.
White Wolf Dog Sled Trips
2141 Hwy 1
Ely, MN 55731
P: 218-365-6815
Email | Website | Directions
Join us on a winter adventure by dog sled! Mush for a full day or on a winter camping and fishing trip. We have 30 years of dogsledding experience.
Wintergreen Dogsled Lodge
1101 Ring Rock Road
Ely, MN 55731
P: 218-365-6022
TF: 877-753-3386
F: 218-365-3088
Email | Website | Directions
Now in our 36th season, Wintergreen is the north country's most experienced dogsledding center. Founded and directed by polar explorer Paul Schurke. No experience or gear needed.
Cast Outdoor Adventures
1270 Black Wolf Trail
Ely, MN 55731
P: 218-296-8650
 
Email | Website | Directions
We provide customized experiences catered to fit the needs of our clients.  We specialize in unique challenges, i.e. young, old, disabled, custom.